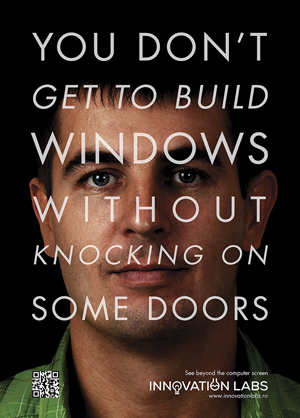 Just one week until the 22nd of May when, hosted by the amazing TechHub Bucharest, we will present the teams to an impressive audience of angel investors, mentors, tech media, start-up founders and friends. 
Here are the teams that will amaze you with their pitch:
Auditorium is an audio touristic guide for your Android phone, which can help you discover the story behind a landmark or a sight when you are travelling as a tourist in a city.
A social platform for location based announces, which helps you to comunicate with people around you.
For example:
- If you are downtown and want to go home and want to share a cab, you can "diffuse" it, find someone to share the cab and pay less => More money in the pocket.
- if you live in the dorms and run out of bread in the middle of the night, you can diffuse your problem and someone will give/lend you some bread => Not hungry anymore.
Our motto: Socialise Locally
FeedSpot represents a new loyalty system for bars and restaurants. It takes the form of a mobile application, easy to use.
At the restaurant, once you receive the bill, you will also receive a QR code. By scanning the code with your FeedSpot app, you will gain a number of points that you can later use to unlock free meals and promotions in the same restaurant. With the app you can also provide feedback for your experience there, see how many points you need to unlock other promotions, see the menus or enjoy the social factor and find out what are the places where your friends like to hang out.
The restaurants receive, in addition to loyal customers, the chance to communicate with them through the app, but also feedback and statistics.
Freemble, a location-based Android application coming soon to a smartphone near you, empowers you to donate things that you don't use anymore to people that actually need them.
With Freemble, you can:
* free your space of things that you bearly use
* save time by giving closer to where you are
* get access to useful and unusual objects
* spread the joy of reusing and recycling
Find the perfect ice-breaker when you are at a event or otherwise: Connect with Linkedin, and check event guest lists for people you want to meet, sorted by common traits and find the perfect conversation starter for the event day. Be visible for a set, pre-determined period of time to all the professionals attending that event, and successfully make your skills and achievements visible to those around you. Make it easy to make new connections at industry-specific conferences, by searching and sorting through a list of potential clients/business partners/future colleagues, laid out by common industries or traits. Event organisers get a fully integrated experience, with attendees able to register, sign on and interact during the event with each other as well as with speakers and organizers, then comment on key points during the presentations and talks. Organizers are then presented with a thorough breakdown of the event, enabling them to improve the next venture and measure the effectiveness of their chosen business model. The follow-up experience for attendees is also ensured by keeping track of past events, and suggesting future events that match their career profile and previous preferences.
Easy to install and deploy, the application can be marketed by major conferences as the main way of interaction during that event.
With over 25 000 registered users, NEXTads Romania is a semi-targeted communication and advertising service in Social Media.
We have accomplished to develop a strong viral communication network that strengthens the link and organic communication between businesses and their customers, engaging users to interact with them and share their advertising campaigns and promotions to friends, relatives and other circles. Our network currently includes Facebook for concept validations and it is built to support all major Social networks.
Retake is a platform for learning photography, where you can create a portfolio and gain feedback from more advanced photographers. The feedback you get can contain an edited version of a specific photography, with different cropping, contrast or brightness, that make it look better. You can then retake the same photo to show your progress.
Seenesthesis helps the children who lost their visual sense to exercise their tactile memory and learn about the shapes and colors of common objects in the surrounding world.
Toto
Android app for live streaming of video games to a web server, to be watched by fans.
Wyliodrin
Wyliodrin is a service that allows programming and controlling development boards directly from a browser. The user can write, store and run his programs. He can modify and watch the board's parameters in real tine, no matter where the board is located. All the user needs is a browser and an Internet connection.
Impressed with our work? Let us know if you want to join